(Please Note: several additional photos and additional information was added to the web site on November 2010)


Click HERE for a new PDF scan of the on track history of the car. A 14 page documentary. Who owned the car when, was driven by who when and where they finished.


Most notably this Ford Riley Sprint Car was driven by Walt Ader to the 1936 Garden State Auto Racing Association's Championship with 336 points. Also important to note, all throughout the 30s - 50s the numerous drivers of this car always finished at or near the top of their heats.
The car was originally built by Johnny Osborne of Far Mills New Jersey in 1933.
At this time the car was painted Blue and was car #9. It had a Miller-Schofield Head for a Model "A" Block. Osborne ran the car for the first time with Syd Pershouse of Pluckemin, New Jersey during the tail end of the 1933 season. Note: Walt Ader was a good friend of Pershouse and was part of Osborne's pit crew in 1933.
In 1934, the car had a new owner, Joe Osworth with Al Lattanzio as the driver. During a race at Woodbridge, NJ on September 30, 1934 the car broke a fuel line and caught fire. Lattanzio was badly burned about the arms and legs and the car had extensive damage. Following this incident Osworth did a complete rebuild job replacing the Schofield with a Winfield Flathead. In 1934 driver Al Lattanzio finished runner up to Johnny Matera for the Garden State Auto Racing Association's Championship. Lattanzio had 183 points while Matera had 201 points.
In 1935 the car again had a new owner, Joe Barzda. Joe assigned the car #32, and painted it Orange and Blue. This time, drivers consisted of Johnny Matera, Walt Ader and again Al Lattanzio.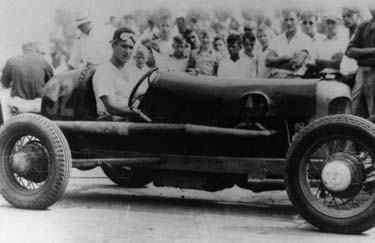 June 30, 1935, Lebanon Fairgrounds, Mark Light. Earliest Photo in our Archives. If you should have any photos of this car prior to 1935, please E-mail us.


In 1936 most was the same mechanically as in 1935 but with the exception that the car was now powered by a Four-Port Riley on a Ford "A" Block. In 1936, Driver Walt Ader won the Garden State Auto Racing Association's Championship with 336 points.


Walt Adler after winning 1936 Championship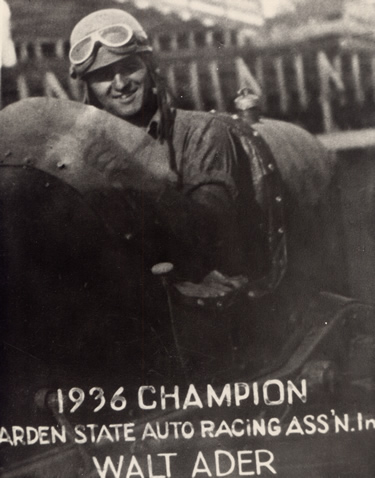 The following photographs were donated on Aug. 18, 2001 by Paul Barzda Sr., brother of former owner Joe Barzda.
Please click to enlarge.
Paul Barzda in 2001 at the Latimore Valley Convention.


In 1937 after two races in April, Walt Ader made the move to AAA diving Tommy Griffin's #36 Rocker-arm Cragar.
In 1938 Joe had four drivers including himself.
Newt Meyer, Joe Verebly, Charlie Breslin.
On June 29, 1938 at Crossbay Speedway in NY, the spriner driven that night by Joe Verebly won the consolation race. Joe Barzda's driver earlier in the year, Newt Meyer, who was driving for someone else this night can in first in the 40 lap main event.
By clicking on the image below you can read the full article about the June 29th race at Crossbay Speedway. (Gordon White provided this article).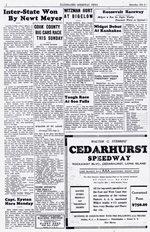 Click HERE for a PDF of this article.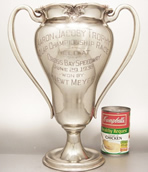 Actual 1938 trophy from that event that was awarded to
Newt Meyer, click to enlarge.



On September 1, 1938 at Crossbay Speedway Joe finished 3rd in his heat and 2nd in the 30 lap main event.
In 1939 Joe had Bob Chronister drive for him but on June 4th at Williams Grove he again drove for himself (where he was forced out of the consolation). Shortly after this race Joe sold the car to Guy Hastings of Essington, PA. Bob continued to drive for Guy except on November 12th when Joe Barzda came back to run the car one last time. Joe was 2nd in his heat and 2nd in the 20 lap main event.
Bob Chronister drove in 1940 and ½ way through 1941. Mid way through the 1941 season Bob left to drive Emmett Shelly's Hal #36. George Ruddy took over driving duties and placed 3rd on the Penn-Jersey Circuit.

1940, A.A.A., Hastings Riley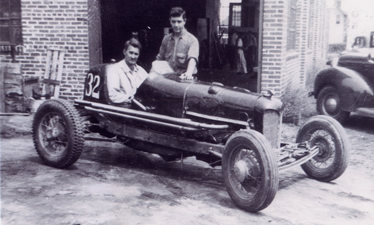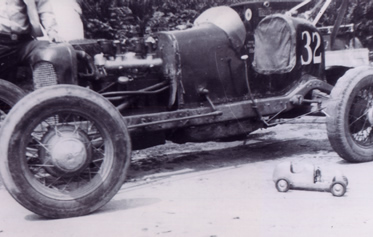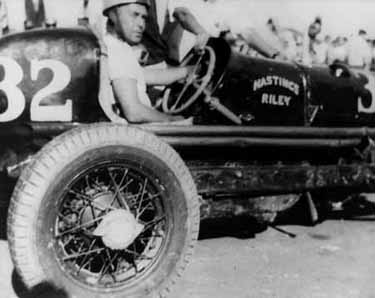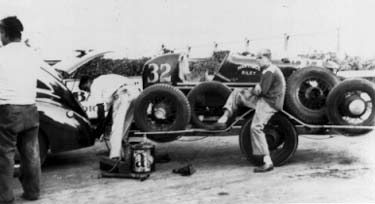 In 1941 car #32 was painted Black.
In 1942 the car was only driven once and that was by Pete McKeone at Williams Grove. The government then put a ban on racing until after the war.
For the first race of 1946 the car was painted silver and had a head rest for the first time. Driving for Guy was Pete McKeone, Eddie Kulp and Scotty Arrell. After the July 7th race at Williams Grove the car was painted red and numbered 39.
1946 (?), Car At Guy Hasting's garage, Guy (left), ? (right)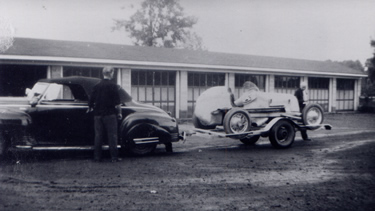 1946 (?), Car At Guy Hasting's garage


1946, Williams Grove, PA, Scotty Arrell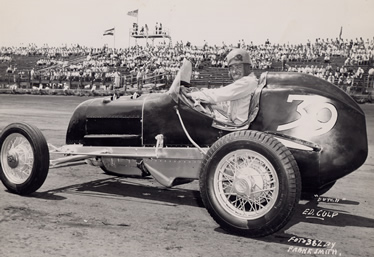 1946, Williams Grove, PA, Ed Kulp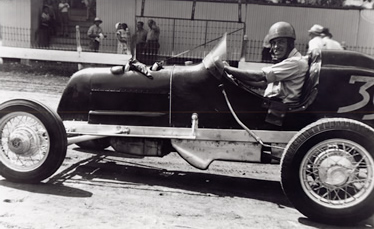 1946, Flemmington Speedway, NJ, Ed Kulp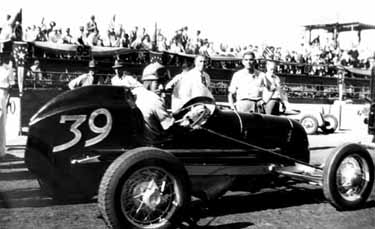 1946, Reading, PA, Ed Kulp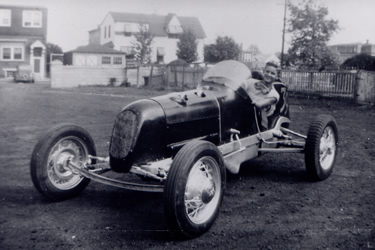 1946, Car At Guy Hasting's garage, (unknown driver)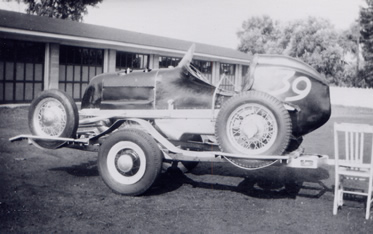 1946, Car At Guy Hasting's garage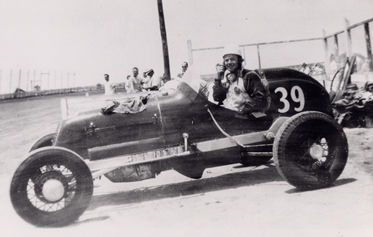 July 1947, Larry Smith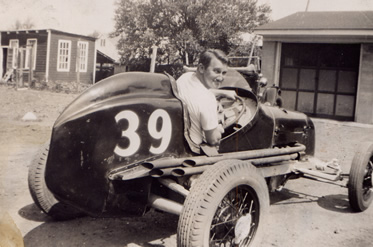 Guy Hasting at his garage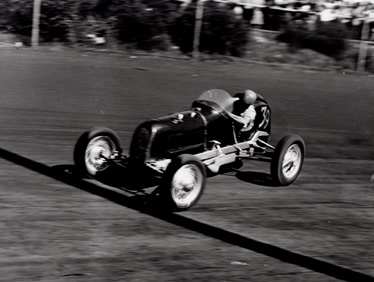 1948, Reading, PA, Ed Kulp


On July 4, 1949 while racing at Alcyon Park, Pitman, NJ Pete McKeon flipped the #39 on the back stretch and put the top guard rail completely through the length of the car. Pete was only slightly injured, (see photo below).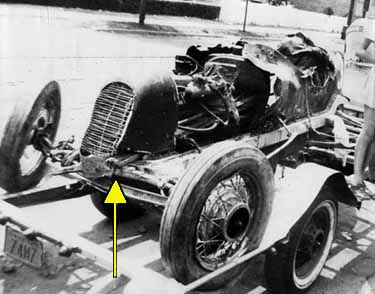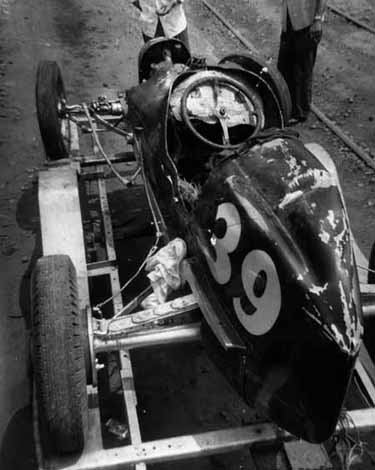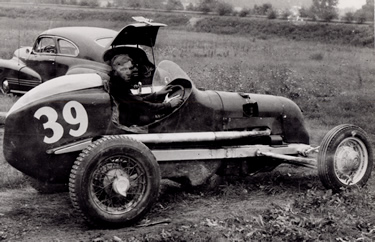 August 28, 1949, Nazareth, PA, Pete McKeon


September 16, 1949, also at Alcyon Park, Pete ran through a cyclone fence and straight up a tree. Pete was not injured, (see photo below).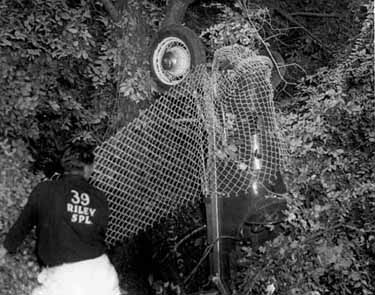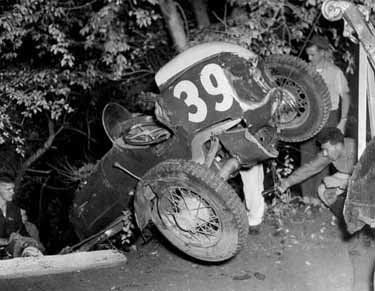 In 1950 #39 was Creme and Red colored as well as Dark Red.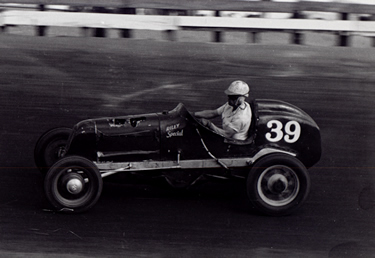 October 22, 1950, Wall Stadium, NJ


In 1951 #39 changed back to blue.

In 1952 #39 was again red with Charlie Mussleman Driving.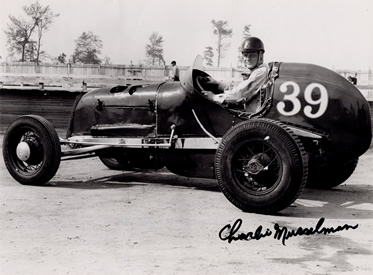 1952, Delmar, Delaware, Charlie Musselman
(First race of 1952)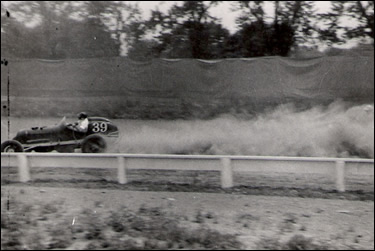 August 4, 1952, Indiana PA, Charlie Musselman driving with
Charles Jennings following.
Charles Jennings sent the above photo into us March 2007. Below is an excerpt from his note:

"I drove NARA in 1952 with your Charlie Musselman. I still have a picture of Charlie. I was just showing my helmet in the dust behind Charlie, I think this was in Indiana PA. 8/4/52. My last race in 1952 was in Marlington, WVA. I was drafted the next week and ended up in Pusan Korea. I drove one race Aug. 1954 in Vineland NJ.
In 1953 Bob Brown (Williams) drove the car to second in points (567) & Rookie of the Year honors in NARA. Bob Brown was runner up to his brother Bill Brown (Williams) with 597 points for the championship.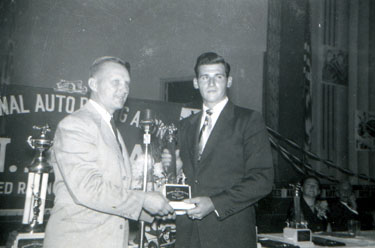 November 21, 1953, Fourteenth Annual NARA Banquet, Bob Brown receiving
1 of 2 awards for Rookie of the Year. 1 trophy & 1 plaque.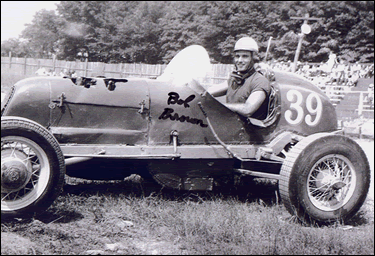 July 5, 1953 Bob Brown, Guy Hastings Riley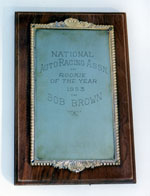 Actual plaque awarded to Bob Brown, (click to enlarge)
Note: Mr. Bob Brown has generously donated the plaque he received for Rookie of the Year in 1953 to Mr. Bill Watson, (restorer & present owner of the car). This plague along with additional photos donated by Mr. Brown will forever reside with the car.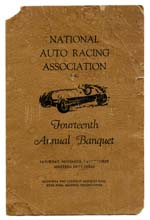 1953 National Auto Racing Association's
Thirteenth Annual Banquet program

Click HERE To View Page 1
Click HERE To View Page 2
Click HERE To View Page 3
Click HERE To View Page 4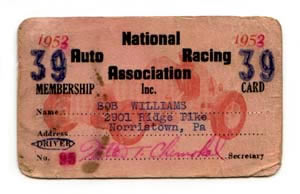 Membership card of Bob Brown (Williams) for the 1953 season for NARA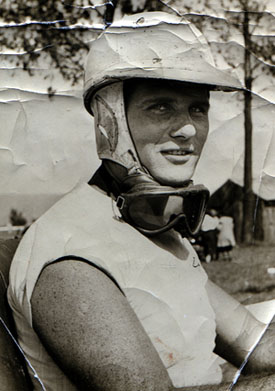 September 25, 1954, Gratz PA, Bob Brown (Williams)
October 2000, Hershey PA, AACA Car Show - from left to
right: Bill Watson, David Watson, Bob Brown, Brian Watson
The car was campaigned for most of the 1954 season, then for only a few races in 1955, 1956, 1959, 1960, then saw its last race in 1961 at Flemmington NJ where Steve Cameron took it to 9th in his heat and 7th in the feature. Not bad for a car 28 years old.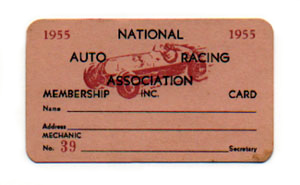 Authentic 1955 National Auto Racing Association - Membership Card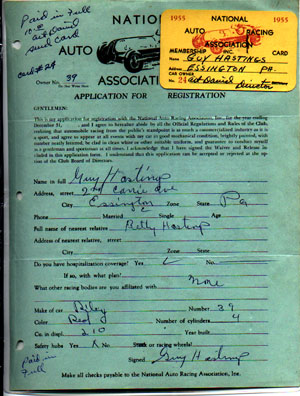 Actual 1955 National Auto Racing Association
registration for car # 39 - Owner: Guy Hastings, click to enlarge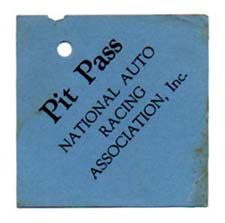 Authentic 1955 National Auto Racing Association - Pit Pass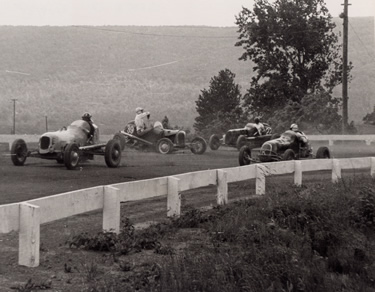 May 29 1955, Gratz PA, Ira Robbins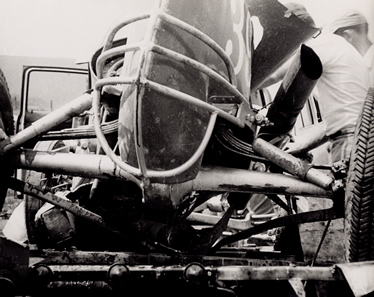 Sixteenth Annual Banquet, NARA, January 14, 1956


Authentic National Auto Racing Association - Decal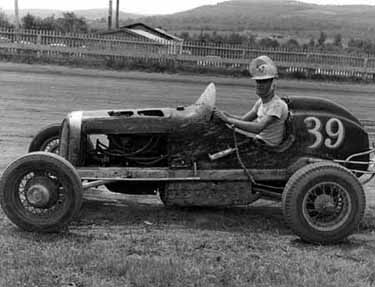 July 7, 1956, Lehighton, PA, Ira Robbins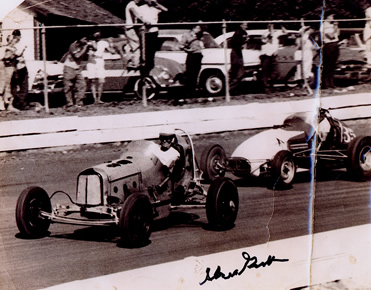 September 5, 1959, Flemmington, NJ, Skippy Goslin
Skippy Goslin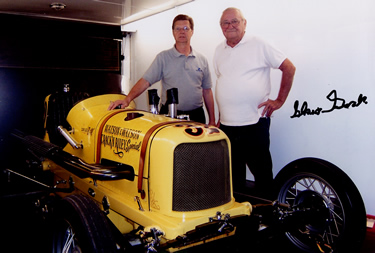 October 8, 2008, Bill Watson, Skippy Goslin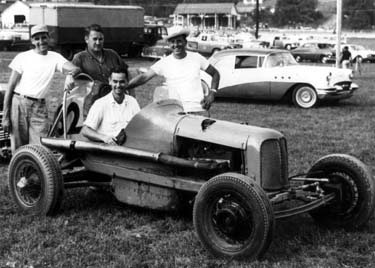 1961, Flemmington, NJ, Seated: Don Barron,
Left to Right: Unknown, Guy Hastings, Joe Ferrell
The 1933 Ford Riley Race Car was raced from 1933 to an amazing 1961
when it was finally retired.

(Please note: there is slight evidence actually raced until 1963...)
DRIVERS:
Al Flemming, Al Lattanzio, Bob Brown, Bob Chronister, Bob Stumpp, Bud Olson, Bud Phillips, Cecil Lester, Charlie Mussleman, Charlie Breslin, Dick Swarmer, Eddie Culp, George Ruddy,
Ira Robbins, Jack Yardley, Joe Barzda, Joe Sanco (Joe Hyrenske), Joe Verebly, Johnny Matera, Larry Smith, Mark Light, Newt Meyer, Pete McKeone, Sal Marchella, Scotty Arrell, Skippy Goslin,
Steve Cameron, Syd Perhouse, Wally Whitman, Walt Ader.
TRACKS VISITED :
PA: Altoona, Allentown, Bedford, Bird-In-Hand (Central Speedway), Brandenville (Anthracite Speedway), Breckneck, Ebensburg, Indiana, Gratz, Kutztown, Lancaster, Latimore Valley, Langhorne, Lebanon (Fairgrounds), Leighton, Lincoln, Nazareth, Port Royal, Reading, Schuylkill Haven (Cressena Fairgrounds), Sellingsgrove, Twin Oaks (Delco Speedway), Williams Grove

DE: Delmar, Harrington

MA: Northampton

MD: Baltimore (Gov. Ritchie Speedway), Hagerstown, Marlboro, Patuxent (St Mary's Speedway), Pomonkey (Airport Speedway)
NJ: Market, Pitman (Alcyon Park), Mt. Holly, Troy Mills, Union, Vineland, Woodbridge

NY: Campbell, Chatham, Crossbay, Middleton, Riverhead

VA: Manassis

WV: Marlington



The car changed hands for the last time in 1970 when Bill Watson
became owner and the restoration began.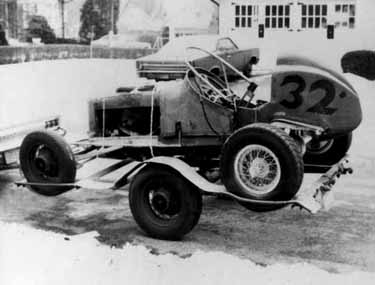 The historic Sprint Car as it arrived for the first time
at the garage of Bill Watson.
This very same trailer can be seen in this PHOTO from 1940 and in our VIDEO section cira 1961 pulling into Flemmington Speedway.


NOTE: We are always looking for additional: PHOTOS, MOVIES, STORIES and GENERAL INFORMATION concerning this car. If you should have any of the above, or know anyone who may, please contact Brian Watson at brianwatson@watsonracingteam.com.

In particular, we are looking for any photos from the
car's first year, 1933.
Thank You

---
Over the years, many people have contributed vast amounts of historical documents, photos and information to our family that have made this thorough presentation possible. I would like to take a moment and sincerely thank them for all their help, without them, this would not be possible. Thank you!